Get Involved
 Join in a movement of compassion designed to reduce child abuse and bring stability to individuals and families while returning the Body of Christ to the forefront of caring for their neighbor. 
When you support IdaHope Families, you join in a groundbreaking collaboration between  local church volunteers and family care professionals to support at-risk children, individuals, and parents in need. When you volunteer, you can have a powerful impact in the lives of others while practicing biblical hospitality and extending the love of Christ to people in need.
Join in a movement of compassion designed to prevent child abuse and bring stability to individuals and families while returning the Body of Christ to the forefront of caring for their neighbor. Your support will enable the Christian church to reemerge as a champion for vulnerable families, and help heal hearts and lives in your community through the love and power of Jesus Christ.
1.  APPLY
The first step is to fill out an information request.  Once you have received the information necessary to choose the volunteer role you are interested in, you may apply.
2.  SCREENING
Volunteer Host Homes, Mentors, and Patrons undergo a screening and training process including background checks, references, and for Host Homes a home assessment
3.  VOLUNTEER
When an individual or family is facing a crisis and needs short-term care you will be invited to come alongside the them in your volunteer role, hosting the child (and sometimes the parent), mentoring the adult(s), or offering specific goods and services.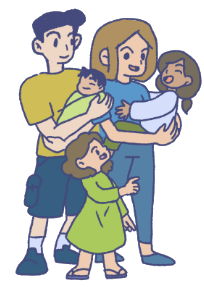 Support for Parents
IdaHope Families provides much needed support for parents in crisis, through our vetted, trained, and approved volunteers from local church communities, giving them time, guidance, and tools to help them get back on their feet while providing a safety-net for their children.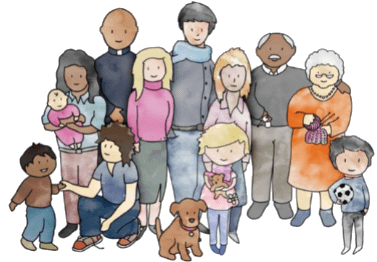 Community Networks
Community involvement is a key component of our ministry. Referrals of families in need are given to IdaHope Families through community networks such as schools, hospitals, social workers, churches, law enforcement, and other agencies.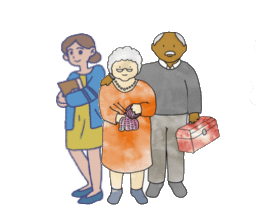 Helpful Tools
Once the crisis is identified, our IdaHope Families Case Manager will visit with the crisis family/individual, assess the situation and then connect them with the Mentor, resources, and tools necessary to help them overcome the crisis and succeed in bringing stability back to their lives.
Volunteers who host children and support parents are known as Host Homes and are recruited from local churches. Families in crisis, or families in need, willingly place their children with a safe, loving, and thoroughly screened, trained and approved volunteer Host Home for a short period of time. They can reunite with their children at any time. Both the family in need and the Host Home participate voluntarily, with no compensation or expectation of adoption.
At the core of the IdaHope Families model is relationships – developing a supportive and caring relationship between the client and our volunteers. Parents who place children in hostings maintain full custody of their child(ren) and are encouraged to participate in decisions regarding their care during the time they are living in the Host Home. Often, strong bonds are formed and relationships continue long after the children are returned to their parents.
The trust built between the Family in Need and our volunteers is central to the IdaHope Families program. It's at the heart of creating a safe haven of support for the family in need. After services end, our goal is for the volunteers to remain in contact, further reducing social isolation and providing ongoing support. Building resilience and long-lasting relationships is at the core of this movement.
Key Components for hostings
We temporarily host children of at-risk families in approved volunteer homes.
We provide families in crisis with a support network. Our volunteers provide needed resources and services (e.g. mentoring, help securing employment, meals, household goods, parenting & life-skill classes, friendly support, transportation, babysitting, etc.).
We engage and equip local church communities to support families in need.
Mentors assist adults with their support plan and keep track of all the moving pieces. Mentors are an integral part of our ministry. Additionally they meet with Host Home volunteers to ensure they have the support they need, while monitoring child safety, and guiding the placing parents to ensure they are moving forward with their goals and have access to needed resources.
A Mentor has five general roles:
Support the Host Home volunteers.
Monitor the safety and care of the child in placement.
Provide community resource referrals to the individuals and placing parent(s).
Encourage and support the relationship between the Host Home and placing parent.
Build trusting relationships with individuals and placing parent(s) as they walk through the crisis together.
A Mentor is a unique and rewarding experience. If you are interested in supporting Host Homes, monitoring child safety, providing families in crisis with needed resources, encouraging the relationship between the placing family and the Host Home volunteer(s), and building relationships with the individuals and placing parent(s) as you encourage healthy growth, contact us for an informational meeting to learn how you can become an IdaHope Families Mentor volunteer.
Host Homes are well trained, background checked families who open up their homes on a temporary basis to provide a safe place and loving atmosphere to children in crisis. Mentors and Patrons also come alongside the Family in Crisis to offer well-rounded support.
Patrons support individuals and families in need by offering goods and/or services as well as moral and/or tangible support until their situation has begun to stabilize. Some examples of the elements Patrons offer are prayer, meals or groceries, clothing for kids, temporary financial assistance, special services like hairstyling, plumbing, carpentry, or auto mechanic skills.
There are so many other ways you can help out. Just give us a call and we'll match our needs with your areas of skill and blessing.
REACH OUT
Contact us for more information on how you can help families in distress keep their children safe and their families intact.
35 Litehouse Drive
Sandpoint, ID 83864
We look forward to serving alongside you and your church.
Need More Info? Leave A Message